Shell Eco-marathon events require dedication and attention to detail. No team wants to be in a position where they've put in all the hard work only to fall at the final hurdle of Technical Inspection. Don't worry, we're here to help.
Here, you'll find technical tips from a Shell Eco-marathon Tech Team Expert, to help you prepare for your event and ace the Technical Inspection.
1. Preparing your team

Before you begin to think about designing or building your car, it's worth getting your team organised and deciding roles and responsibilities within it. This event requires real dedication, so here are a few tips to ensure you're prepared:
Define your team roles
It's really important to decide who in your team is responsible for what, so define their roles. Appoint a Team Leader, a Safety Manager, a Logistics Coordinator and a confident Driver. It's also a great idea to recruit mentors with prior experience.
Define your project
Before you get started, your entire team should read the Rules. If you have any questions, please get in touch with us. We then advise drawing up an accurate budget and fundraising plan. Make sure your budget includes your shipping quotes and contact your sponsors early on.
Before shipping
Before you ship your vehicle, it needs to be fully built and test-driven. Try to get several hours of driving in a safe location prior to travelling to Shell Eco-marathon. Also, run your own Technical Inspection to be confident your vehicle is compliant before it arrives at the event. We'd urge you to take Technical Inspection very seriously. If your car doesn't comply with every rule, you won't get access to the track. Aim to pass Technical Inspection on the first day.
Documents and communication
Please print the required technical documents and bring them with you. Digital copies are not accepted. All Shell Eco-marathon Competition Rules and instructions are in English, so please ensure your team managers and drivers understand English.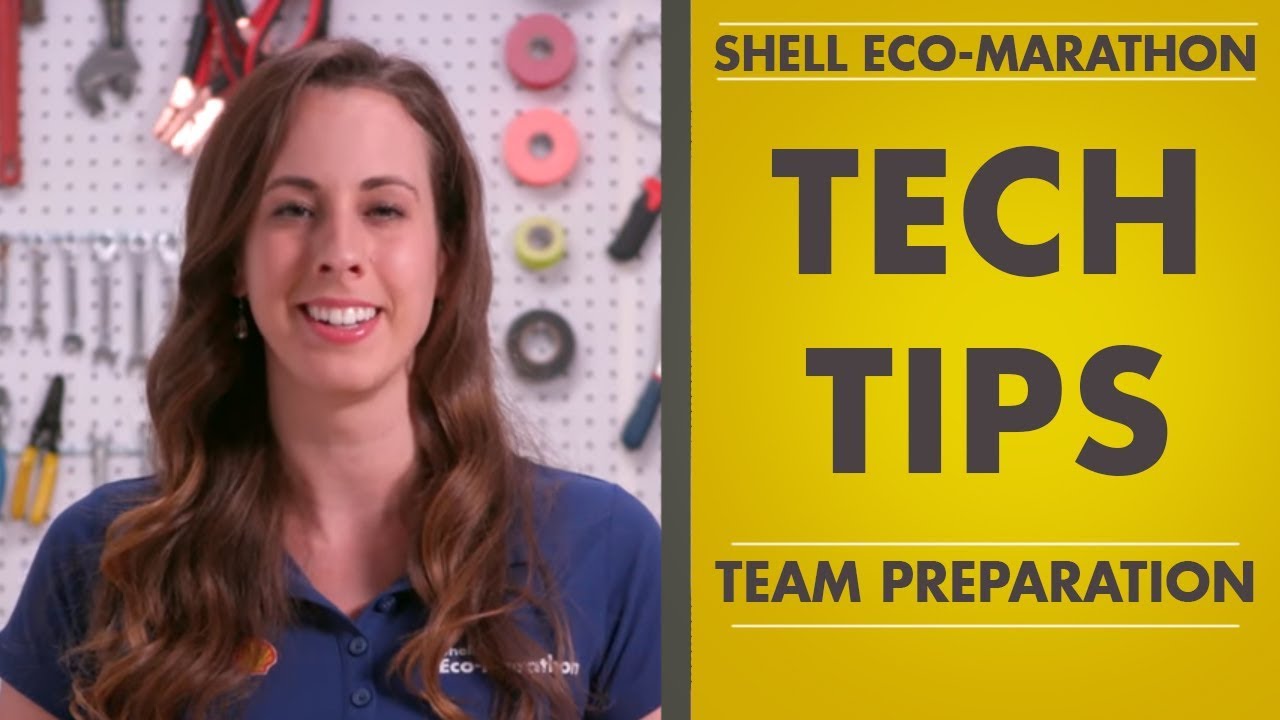 Tech Tips - Team Preparation | Shell Eco-marathon
2. Designing a vehicle with safety in mind

While you'll be thinking of ways to design super energy-efficient vehicle, it's essential to build a car that keeps your driver safe while they're at the wheel. Here are some tips that should help.
A solid floor
Every vehicle must have a solid floor that completely separates the driver's compartment from the road.
The vehicle body
The vehicle body needs to fully surround the driver, so no open-top compartments are permitted. The bodywork should have a solid and sturdy construction to protect the driver, so don't use materials like thin film, cardboard or fabric. The bodywork also needs to cover all mechanical parts when viewed from above.
Make sure there's a bulkhead
The vehicle must have a bulkhead to separate your driver from the energy compartment in the event of a fire.
There also shouldn't be any manual access from the driver to the energy compartment. The bulkhead should be made from a fire-retardant material like carbon fibre or sheet metal. If you're using wood, you'll need to add additional material to the energy compartment, such as aluminium.
Make sure the bulkhead reaches all the way to the top and sides of the vehicle, leaving no gaps between the body cover and the bulkhead. Try to run the wires underneath the bulkhead. If there are any gaps, try to fill them in with fire-retardant material like metal tape and protect the wires from chafing.
Additional tips for Urban Concept vehicles
If you're building an Urban Concept vehicle, keep these extra tips in mind: Make sure the wheel covers are integrated into the bodywork. Your driver's door opening needs a minimum dimension of 500 x 800mm and the chassis and bodywork must not infringe on this space, because the driver needs to be able to quickly enter and exit the vehicle.
Since the beginning of 2019, it is mandatory for two doors to be built on all Urban Concept vehicles. It's also worth noting that bubble-top openings are not allowed.
Be prepared for your design check
Submit your technical drawings, photographs or animations of your entire vehicle in advance, so we can notify you if your design is non-compliant. For more information, make sure you read the Shell Eco-marathon Rules early, and get in touch if you have any questions.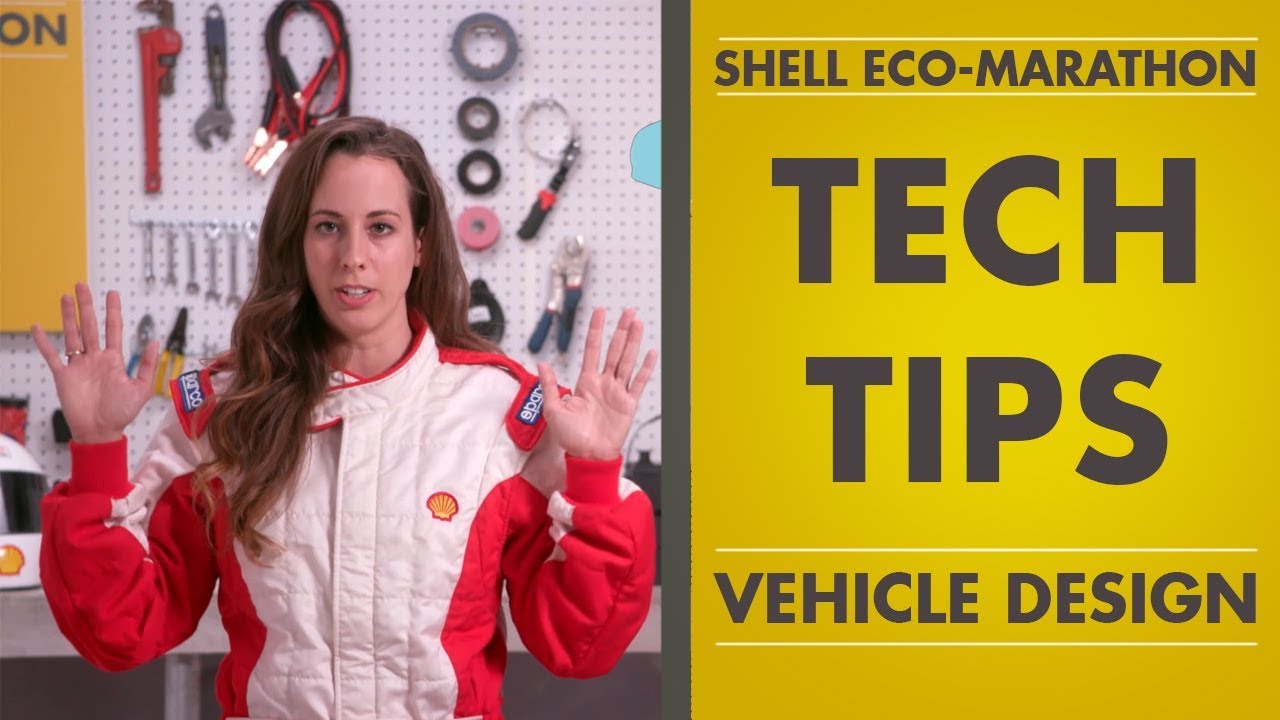 Tech Tips - Vehicle Design | Shell Eco-marathon
3. Roll bars and safety
Unfortunately, collisions do happen, and we want to make sure every driver is safe at Shell Eco-marathon. Here are the things you should know about roll bars and safety belts.

Roll bars
If your team's car rolls over, your driver will be relying on the roll bar for their protection. They must extend beyond the driver's shoulder when seated in a normal driving position.
The roll bar must have a minimum of a five-centimetre gap around the entire racing helmet. It needs to be strong enough to endure at least a 70kg static load, and we'll test this by applying this in several different directions during Tech Inspection.
As for its construction, it's fine to use tubular steel or panel-type roll bars that are integrated into the chassis.
Safety belts
As for safety belts, we want to see either a five-point or six-point belt system with the mounting points fitting to the strongest part of the vehicle and according to the manufacturer's instructions.
The waist straps, which normally contain the locking system should be mounted 90 degrees to the floor for a Prototype vehicle, or between 45 and 60 degrees to the floor for an Urban Concept vehicle.
The belt should meet in the centre of the lower abdomen. Crotch straps should be mounted directly below the bottom of the driver's spine. They may fasten directly into the locking mechanism, or loop through the waist straps and fasten via the shoulder straps.
Make sure the shoulder straps are mounted approximately 10 degrees below the shoulder. Once your driver's safety belts are tightly fastened and you've got the excess straps secured, you should be good to go.
Remember, these safety measures should be in place before your driver begins practising. Even prior to Shell Eco-marathon. They should also wear their one-piece race suit, protective gloves and helmet. Please practise in a safe area, not on public roads. For more on this, take a look at Articles 26 and 29 in the Rules.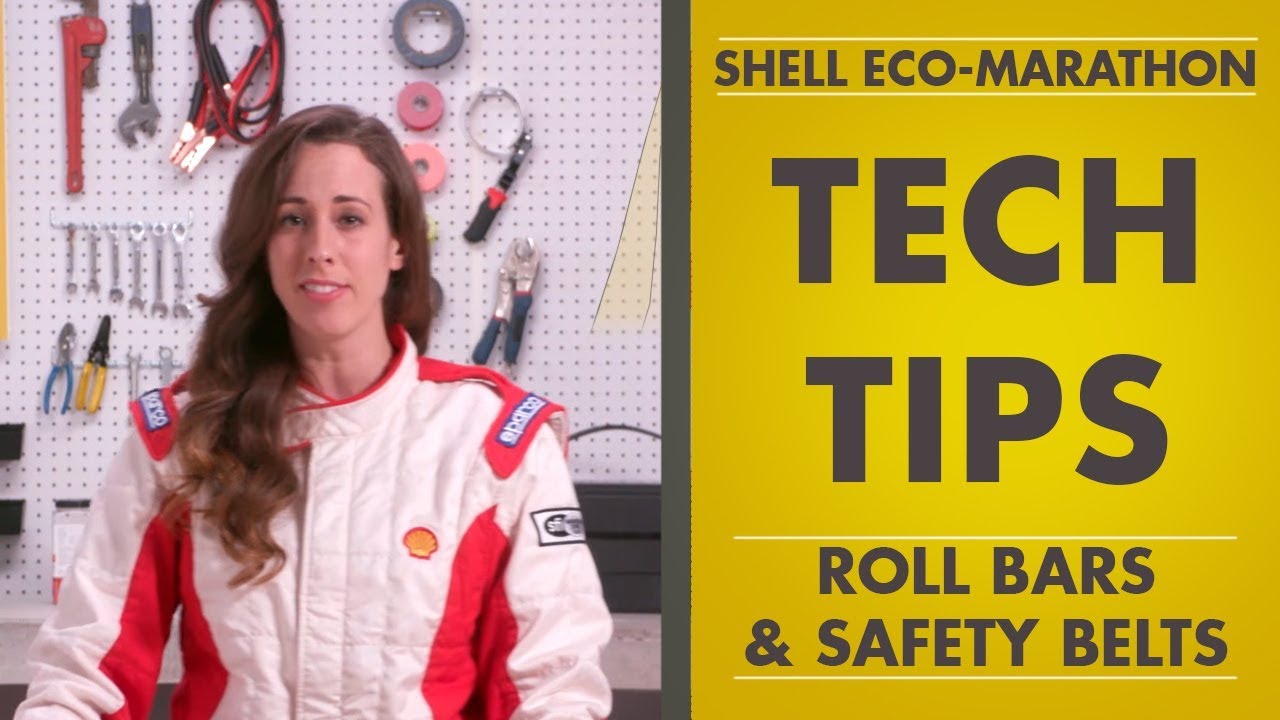 Tech Tips - Roll Bars & Safety Belts | Shell Eco-marathon
4. Telemetry: what is it and how does it work at Shell Eco-marathon?

Telemetry allows us to transmit data about car position, speed and energy consumption live to teams and spectators at Shell Eco-marathon events.
Our telemetry data gives teams information that can help them learn and improve, and for spectators it adds excitement, as they can see exactly what's happening as the race unfolds.
Here's how it works:
Sensors in the car transmit information to an onboard computer
The computer sends information to a cloud-based server
The server processes the data and fires it back down where students and spectators can see it on displays and on social media.
How does the telemetry system monitor energy consumption?
You'll need a different component installed, depending on the energy type of your vehicle.
Internal Combustion Engines – The primary sensor is the liquid flow meter. It will precisely and accurately measure how much fuel flows between the tank and the engine.
Battery-Electric – A joulemeter measures the electrical energy being used. It needs to be positioned between the battery and the vehicle's electrical system. In the case of internal combustion engine vehicles, the starter motor must come after the joulemeter.
Hydrogen Fuel Cell – The energy consumption is measure by a Hydrogen Flowmeter. This sensor tracks how many normal litres of hydrogen are consumed by the fuel cell.
What about the On Board Computer (OBC)?
Here, we'll take a closer look at the On Board Computer, or OBC that all vehicles will need. First of all, the OBC is powered by its own battery, which will be supplied by the organisers at each event.
The computer has several components. An external element with GPS, Wi-Fi and cellular antennae, and an internal component that connects the sensors and the telemetry battery. It's important that the external component has a free view of the sky.
It must not be covered by any parts of the car. Siding can be used around the housing but only if all OBC buttons and LEDs are easily accessible. When it comes to mounting your On Board Computer, it should be mounted within 10 degrees of the horizontal.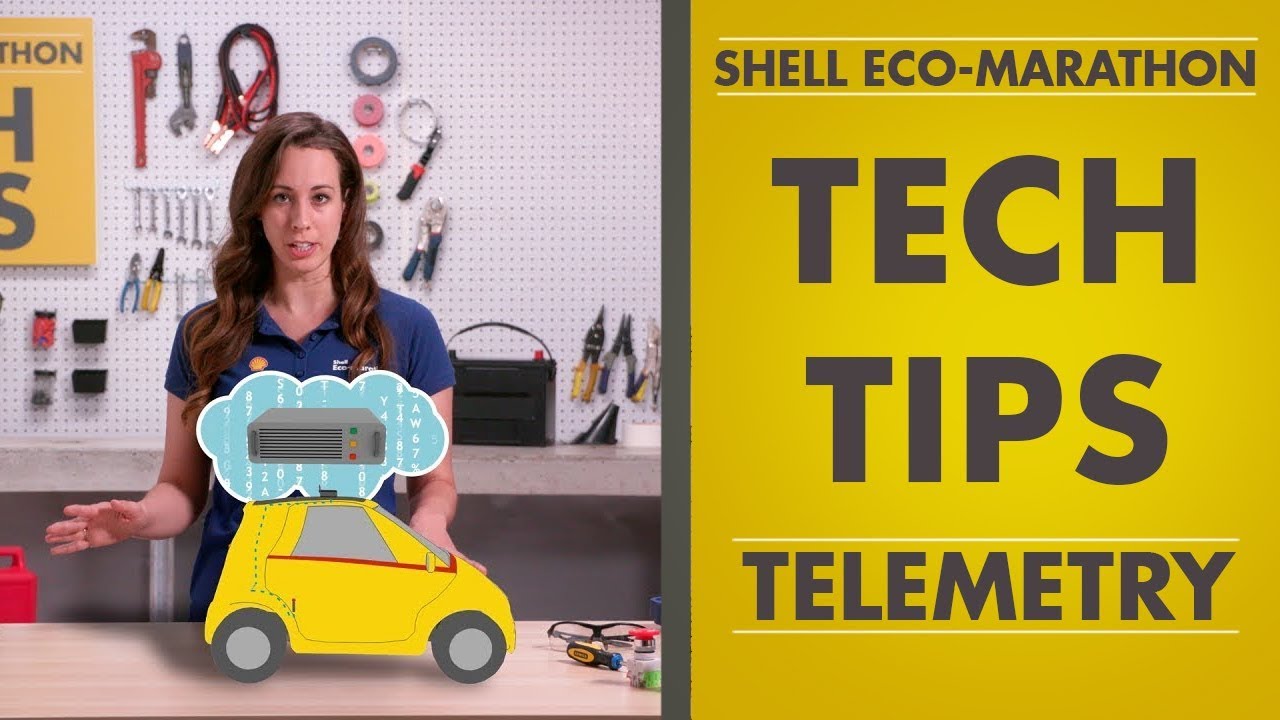 Tech Tips - Telemetry | Shell Eco-marathon
5. Motor controllers for battery-electric vehicles

For Battery-Electric vehicles, we've decided to ban store-bought motor controllers so that all teams learn about the requirements of their electric motor. Once the control requirements are understood, individual system components like a single-board control computer and the power driver stage can be specified and integrated into the system.
If you want to design your own controller or power stages and integrate them into a printed circuit board (PCB), that's great, but please ensure that the letters "SEM" are etched onto the PCB to identify the board as custom-built for the Shell Eco-marathon event.
By the way, don't be tempted to buy a controller and modify it, our eagle-eyed Technical Inspectors will spot it!
We want you to develop the motor controller yourself, so this also means we outlaw motor controller evaluation kits or the individual kit components, including software.
For more information about motor controllers, please see Article 67 of the Rules.
For more detailed rules, please find the full Global Rules here.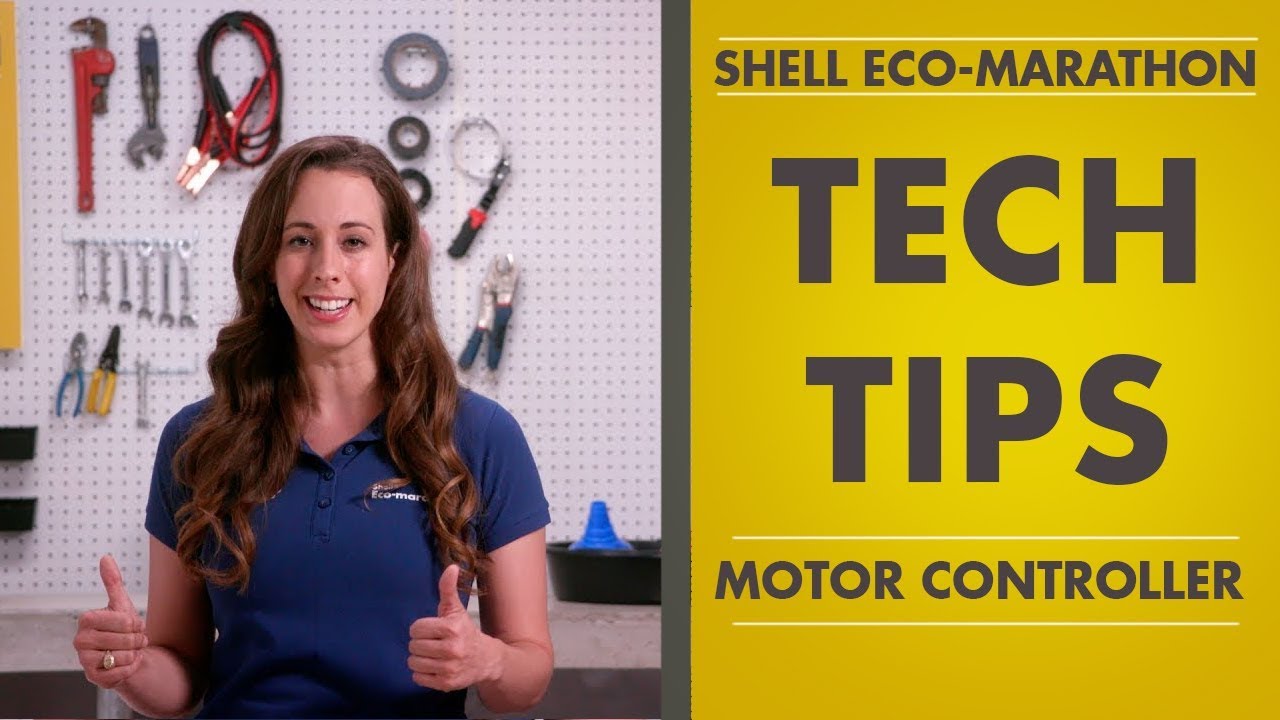 Tech Tips - Motor Controller | Shell Eco-marathon