Joey Logano, a Shell-Pennzoil NASCAR driver from Team Penske, is no stranger to achievement. At just 18 years old, he became the youngest driver to win a Nationwide Series race. He's also a long-time supporter of Shell Eco-marathon.
Following the unprecedented shift to a virtual programme in 2020, Joey joined Norman Koch as a special guest in the 2020 and 2021 Americas Off-track Awards; and helped us honour the outstanding achievements of Shell Eco-marathon teams in the 2021 Season Finale show.

Norman managed to catchup with Joey between his busy racing schedule to talk about what inspires him, top tips for Shell Eco-marathon teams and how he prepares for race-day!

Watch the latest film below to find out more.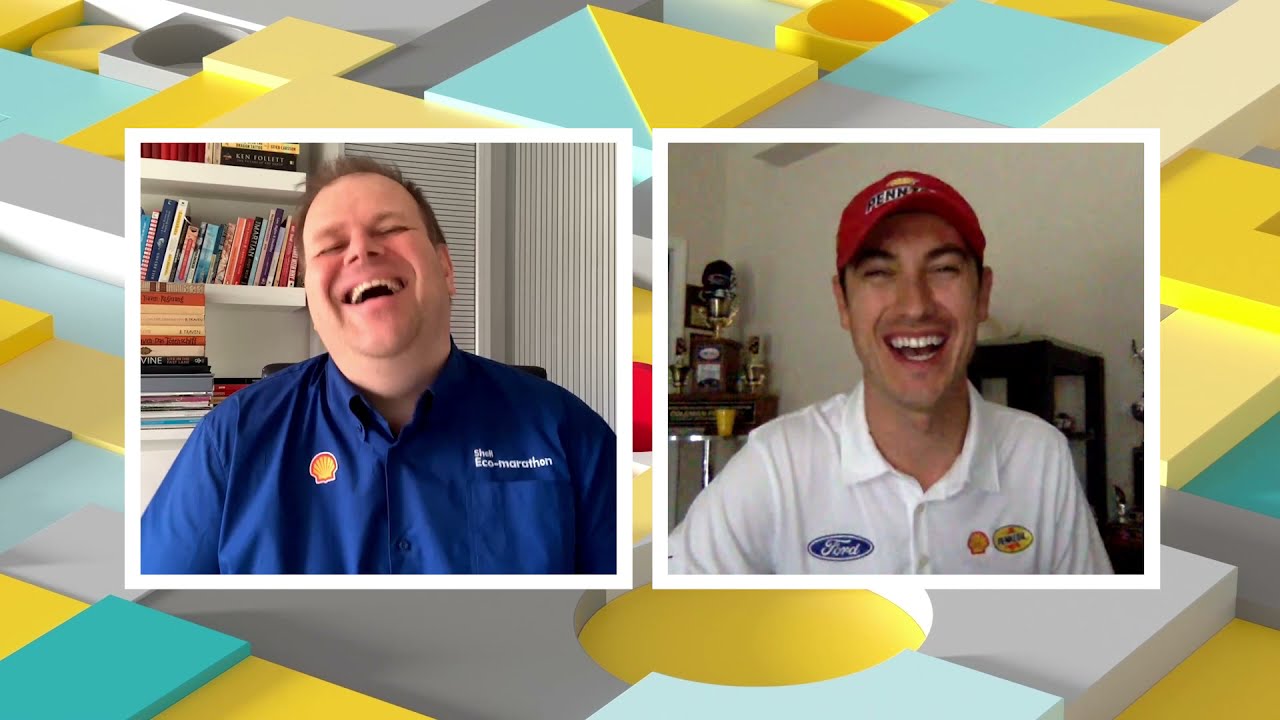 Watch Joey Logano in conversation with Norman Koch
This was not the first time we chatted to Joey – see below for extracts from our first interview with him after he made an appearance in the 2020 Americas Off-Track Awards, as he talks about what got him interested in racing, what teamwork means to him, and what advice or tips he has for students as they pursue their studies or careers in STEM.
Q: When did you know you wanted to race professionally?
Joey: I was very lucky to find what I was passionate about at a very young age. I've always loved cars and loved driving – I got a go-kart when I was six and it was game over from there. I kept chasing my dream and was able to find success early by making the most of the opportunities that came in front of me.
Q: Shell Eco-marathon is all about energy optimization. Teams use design techniques to build cars capable of being ultra-energy-efficient, while the driving strategy focuses on how to conserve energy. When you're on the track, what are the key things to remember about collaborating with your team to help you make decisions?
Joey: Communication and teamwork are key; we are constantly connected, and we all bring different ideas when it comes to strategy. It's important to find a way to align and come out as one unit. Efficiency is also something we look at all the time when building the race cars – making sure we have speed, but in the most efficient way. The way you build a car has a big piece in that, but also the way you drive a car contributes and that's why all the communication across the team is key. When I'm in the heat of the battle inside the car, I don't have the data in front of me to know how much fuel I'm burning, so it takes teamwork.
Q: Building an energy efficient vehicle is only half the journey for student teams. They also must pass a technical inspection before they can compete which can be daunting. Do you have any tips or anecdotes to share about safety in the automotive space?
Joey: Safety is of the utmost concern for all of us. We become invincible in our own minds if something doesn't happen for a long time, but there is always an eye-opening experience. For instance, we never thought we'd go through a pandemic, but now that we see it, we are like – woah.
When you start to believe you're invincible because you're doing something every day, that is when it becomes dangerous. One thing I've learned is it's called an accident for a reason and that's when you want to be prepared from a safety standpoint. I put my life in other people's hands, but ultimately that weight is on me as a driver where I need to do the research, so I feel comfortable behind the wheel.
Joey Logano, Shell-Pennzoil NASCAR driver from Team Penske
Q: What words of wisdom do you have for STEM students as they complete high school and college coursework?
Joey: Find your passion. Within STEM, there are many different jobs. Once you find what you love, you don't work another day in your life.
Sometimes you don't find your passion or purpose until you're in it. My advice is to out-work your competitors in every category and take advantage of every opportunity. Some opportunities may not work out, but it's guiding you to where you need to be and teaching you what you need to know.

In my life, I'm always surprised at where I end up. You're not in complete control, so trying to keep that positive attitude throughout will help you and your career a lot.
Q: How have you stayed motivated and positive through challenging times?
Joey: I hate to lose. There are ups and downs and the strongest get through it, and you must have confidence in yourself and confidence in your team.
The challenging times aren't as challenging when you know you've dug out of them before. You'll realize how much you've grown. After the hard times are over, you'll look back and say, "that was great, I needed that," you just didn't know it at the time.