In 2017 to highlight the need for more and cleaner energy solutions, the South Pole Energy Challenge team has walked to the South Pole using only renewable energy – including advanced biofuels provided by Shell – to keep them warm, dry and fed.
600-mile trek
Explorer Robert Swan has experienced some of the harshest environments on the planet, becoming the first man in history to walk to both poles in the 1980s. Having shown incredible mental and physical fitness, as the expedition reached the halfway point, Robert made the tough decision to return to Base Camp to allow the team to increase their pace as he struggled with his hip at 300 miles.
The remaining members of the team, consisting of Robert's 23-year-old son Barney, expedition guide Martin Barnett and documentary filmmaker Kyle O'Donoghue, arrived at the South Pole ahead of schedule having completed this epic 600-mile trek.
In December 2019, Robert was determined to complete the last 300 miles and took on the challenge while also testing more advanced biofuels. It was important that Robert and his team had the right nutrition to power them in the extreme arctic conditions and are food scientists at Jamie Oliver Deli by Shell specifically created energy bars to sustain them while on this mission.
The role of advanced biofuels
The advanced biofuels that the South Pole Energy Challenge team used were developed for this trip using a technology called IH2* that turns solid waste into biofuels, produced at Shell Technology Centre Bangalore, India. They were critical in keeping the team warm, dry and fed in one of the harshest environments on earth.
Through this unique expedition, Shell and the team aim to highlight to younger generations that there is no silver bullet to the challenge of climate change. It is up to all players in society - including governments, industry, entrepreneurs and corporations like Shell to come together to develop an innovative mix of cleaner energy solutions.
Along with other renewable energy sources, Shell believes that advanced biofuels will play an important role in creating lower-carbon energy systems in the future.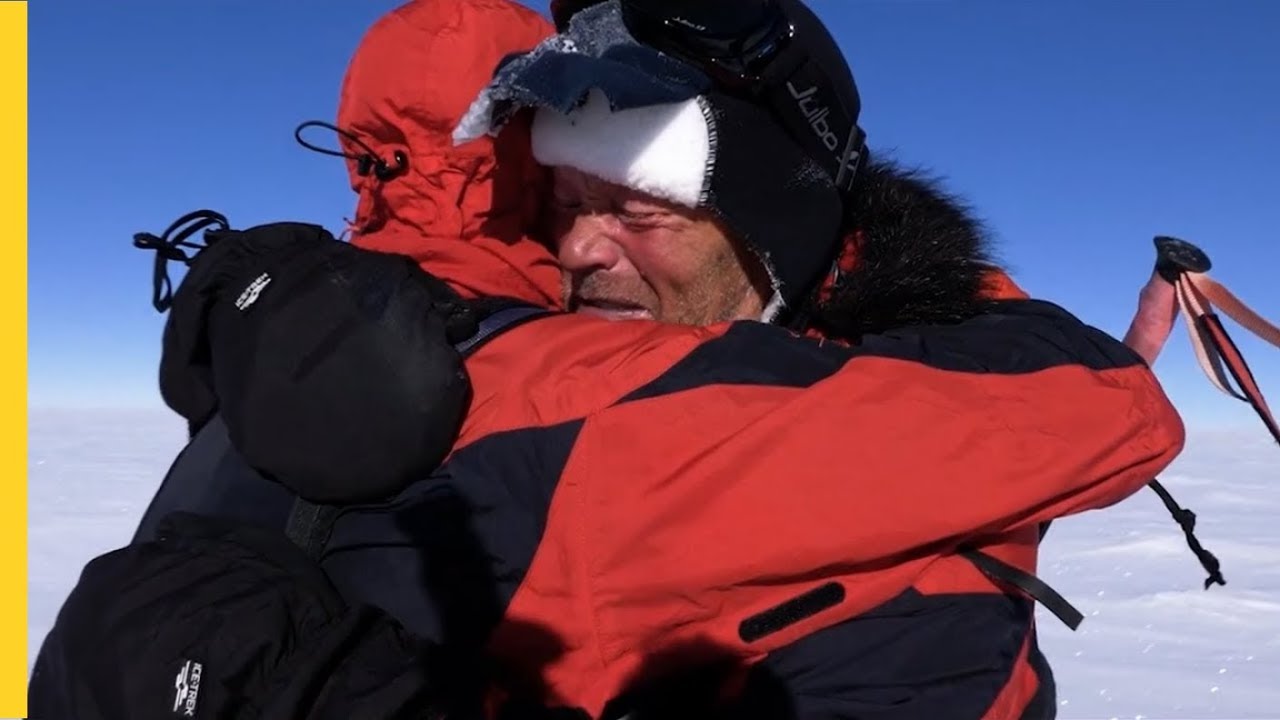 Journey To The Pole - The South Pole Energy Challenge | #makethefuture
The South Pole Energy Challenge was the world's first polar expedition powered solely by renewable energy sources, including advanced biofuels provided by Shell
The South Pole Energy Challenge team set off from the Union Glacier Base Camp, and an incredible 56 days later reached the South Pole.
Leading a team that included his son, Barney, Robert was optimistic and upbeat in his first messages from the expedition.
In one of his first messages at the beginning of the epic march across snow, Robert said: "This is Robert Swan. A message from the South Pole Energy Challenge Team. Today we pulled our sleds for just over three nautical miles, 3.5 nautical miles, it's very hard going.
"Extraordinary to be back on the way to the South Pole again. Barney and myself are in good spirits. We cooked our first polar dinner this evening using water melted by the ice melters and then boiled by the biofuels from Shell. All is good. This is Rob Swan, day one, message ends."
However, at around the halfway point of the expedition, Robert made the difficult but selfless decision to head back to Base Camp so the team could increase their pace.
In his message, Robert said: "Message personally from Robert Swan to all of our followers. We spent two days here, which is approximately half way to the South Geographic Pole.
"We've had to make a very important… and right decision and that decision is that I, Robert Swan, will not continue on to the South Geographic Pole. The reason is very simple. So far, we've been averaging eight or nine miles a day. I can manage that, just.
"But the team, in order to meet the deadlines to get to the South Pole are going up to the 14 miles a day and I'm just not physically capable of doing that.
"My son is continuing. This is the South Pole Energy Challenge, not 'Robert Swan Walking to the South Pole'. I'm leaving Barney in the hands of two of the most capable people I know on earth, I'm extremely proud of Barney and I love all three of them. Message ends."
After his father's withdrawal from the South Pole Energy Challenge, Barney said: "This is an update from the South Pole Energy Challenge. We're on day 28 on ice, marching, and yesterday was a bit of a poignant day, where we said goodbye to my dear father. It was not an easy day, saying goodbye to Dad. It was a bit sad to see him fly off, but we managed to crank out 11.4 nautical miles today and hopefully we'll be able to keep up that pace. I think mentally we're all a little… by how long the journey is ahead. But, a lot of emotions in camp, especially between Dad and I, obviously leading up to saying goodbye."
The team trudged on without Robert and spent Christmas in the freezing conditions of Antarctica, finding time to celebrate.
In Barney's Christmas message, he said: "This is a Christmas message from the South Pole Energy Challenge. We're digging into some Patagonia salmon and some Ardgowan whiskey from Scotland and we've been saving it for the last month-and-a-half of walking.
"So, super happy to be having some whiskey and sharing it with two excellent gentlemen, of course missing my father and hoping that he's having a festive time at the base camp. But, thinking of everyone back in England and Australia and all of our family and friends and just wish that we could be there and share the festive joy but we're keeping merry down here and yes, it is a white Christmas, 100%. But, missing everyone back home and unfortunately Father Christmas is at the other end, so I don't think we'll see him. Ciao."
After 56 days, Barney and the team made it to the South Pole. In Barney's message, he said: "This is Barney Swan reporting from the South Pole. It's been just the most amazing journey to get here, 56 days we were marching. It's just been such a process to get here over the past few years and the past two months of actually being down in Antarctica.
Robert said: "32 years ago, we made a little bit of history in being the first people to arrive at the South Pole on foot after Captain Scott. Yesterday, my son Barney made an amazing bit of history. They made it from the edge of Antarctica, and they survived for the first time in history, only on renewable energy. These biofuels have performed incredibly well, so we're very, very, very happy that the expedition is now complete. I have to say that my son underwent a lot of pain in his feet but he didn't give up and he completed the journey, made that piece of history."
Barney added: "I'm just super, super grateful for everyone who's shown curiosity, interest and we're really excited to move this message forward with not just sustainable energy but how we can all be a part of cleaning up those emissions. And I'm super, super excited to get back and see some plants."
Read more about biofuels and how they could help shape the future of how we produce energy.
*IH2 is a trademark of Gas Technology Institute